Hello All,
I am spending another phase of sleepless nights. The prevailing cyclonic weather makes Vizag a very chilly place and my kiddo developed severe cold and cough and is finding it difficult to sleep. To top it all my husband had met with an accident yesterday and is on a week long bed rest. Well life is never smooth and for me its a bit more weird or is that I think too much about it ... Anyways sorry for bugging you with all that.... just need to vent out. Let me quickly share a piece of craft I made two days back.
Here it is .... a wall hanging made with a Formula Tin lid.I was inspired by a quote I saw on pintrest which goes like this. "Its not the place that like but the life that I live in it".
I made two pieces that look exactly same, one for my own home and the other for my parents' as they have recently renovated their house.
Some more shots of the piece,I am unable to get better pictures because of the weather ,tweaked a little in Picasa for better quality.
I covered the lid with patterned paper. The flowers are handmade and the felt Alphabets are from ItsyBitsy, the buttons and the butterfly are from my stash.
Sending it to the following challenges
Crafty-JC : Holiday Favours
For the love of Crafting : Anything but Card
Top Tip Tuesday :Anything goes
Wee Memories :
Anything Goes
Also linking at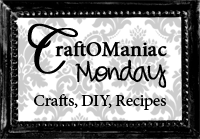 Hope you like this.Do leave your valuable feedback
-Swathi